Looking for dental implants in Huntington Beach? Beachside Dental is here to help. Sometimes, tooth loss is inevitable, due to gum disease, injuries, or simply age. All the same, we know that such tooth loss can feel monumental. But we can replace that loss with a dental implant, which is a clean solution to the loss of a tooth or teeth.
Your teeth were created to last for a lifetime, but it doesn't work out that way every time. Missing teeth can be a major functional and cosmetic problem, replacing them is important to maintain your dental health. With tooth loss, you can lose your chewing ability and can potentially lose other teeth. Dental implants from Beachside Dental are the first option available for replacing lost teeth.
Patients have been treated with these restorative procedures for more than 40 years. This is the ideal treatment choice and can fundamentally correct all aspects of a smile. It provides cosmetic benefits, improved functions, and delivers greater confidence.
How a Dental Implant Works
Missing s tooth? Dentures are another tooth replacement option, but dental implants are state-of-the-art, permanent, and very natural looking. Patients who select dental implants as a tooth replacement option are uniformly satisfied with the natural look and feel of these replacement teeth. At Beachside Dental we can provide the dental implants Huntington Beach patients need.
Complimentary Dental Implant Consultation Call: (714) 842-6151
Not sure what dental implants are, exactly? They're strong artificial teeth and roots which are placed directly in the jaw in order to support and hold both a replacement tooth or bridge.
They look just like your natural teeth, and are one of the best solutions for missing teeth, because of the way they seamlessly integrate right into your bone structure. This implant technique will prevent both bone loss and any gum recession.
Teeth implants mean there's no need for you to adjust or alter adjacent teeth, either. And once the implant has taken place, you can speak and eat comfortably, and you'll smile securely, assured of the natural look and feel of your replacement tooth or teeth.
What Are Dental Implants?
Dental implants offer patients the opportunity to experience the comfort and function of their teeth, even after they have been removed. A good set of implants can be easily added to your lineup of teeth to provide you with a brand-new tooth to replace the one that you lost. These innovative designs make it simple for you to regain the convenience and appearance of your smile like never before. It is perfect for replacing the tooth or teeth that you lost, and as an added bonus, no one even has to know that you had an implant. Implants can be used for a wide variety of benefits, but people seem to love them more than anything because they can easily replace a missing piece of your smile. Whether you need a new implant or want to restore an old one, we are happy to help.
---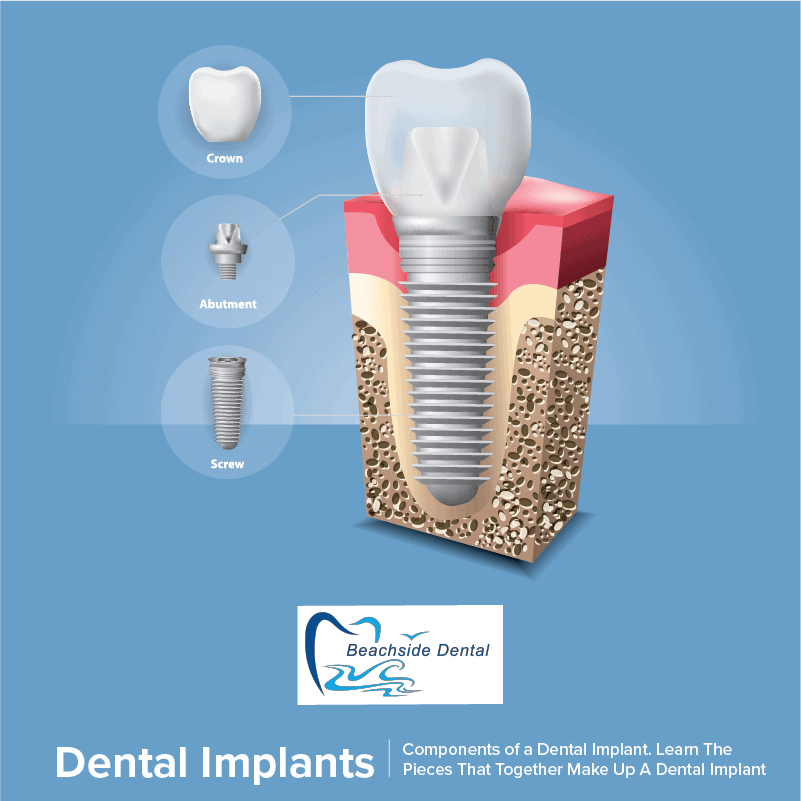 Dental Implants Consist of Multiple Components
Specially designed medical screw
Abutment assists in securing the dental crown
Porcelain dental crown designed to replicate a natural tooth
You may require a bone graft which will help restore missing bone
---
Implants provide a realistic alternative to missing teeth in many ways. These structures are ready to fit the need that you might have for your missing teeth, making it easy for you to rely on them in place of your original teeth. Implants begin with the placement of a titanium cylinder. This cylinder is added to the jawbone with a surgical process and will act as an alternative to your original tooth's root. The root of a tooth is responsible for keeping your tooth connected to the jawline, but it also plays the role of stimulating your jawbone so that you can feel confident in its structural integrity. This portion of the implant tells your bone to reinforce itself, which is important for absorbing the impacts of chewing and physical damage that it might receive.
Dental Implants Are Perfect For:
Replacing damaged or lost teeth
Offering an alternative to previously damaged teeth
Adding a tooth in when one has not grown in naturally
Providing a permanent alternative to dental bridges or dentures